Employment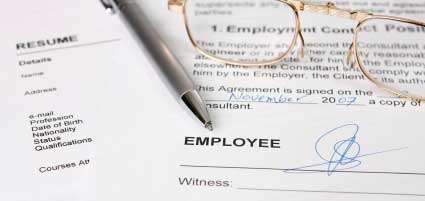 We have a very well established Employment Law Department, have a track record of presenting many cases before the Employment Tribunal and the County Court and in some instances, the High Court and the Employment Appeals Tribunal.


We advise employees and employers alike upon all rights under the Employment Rights Act and common law in relation to wrongful and unfair dismissal, redundancy claims, damages for breach of contract, direct or indirect discrimination, harassment or victimisation, race and sexual discrimination. We can offer a free initial consultation or (in certain circumstances) a fixed fee consultation, so that we can carry out a full assessment of any potential claims and advise you on the prospects of success. Depending upon our assessment of your case, we may be able to take it up upon a 'Contingency Fee' basis, which means that you don't pay us any fees unless you win your case and recover compensation. We will provide you with all due information as to how the Contingency Fee arrangement works.


Compromise Agreements - we deal with these Agreements on a regular basis and would be pleased to arrange an appointment at short notice to fully advise upon all terms and conditions of the Agreement and so as to make sure there are no hidden or onerous clauses which, for instance, may affect your future employment opportunities. We advise employees and can also draft an Agreement for an employer. We can also assist with negotiations where necessary prior to completion of the Agreement.
Contact Us



Elton & Co. Solicitors
2-4 Kelly Street
London NW1 8PH

Tel: 020 7267 7373
Fax: 020 7284 0414
DX: 119326 Kentish Town



Email:
mail@eltonsolicitors.co.uk

Principal
Michael Elton LL.B.

Complete Our
Enquiry Form

Click here for a large map